CITP Special Event: Tech in Conversation- Imagining Radical Tech Futures
While scholars often examine the ways in which technologies fail and marginalize communities, this event focuses on an equally critical goal of adopting an abolitionist mindset – one that simultaneously asks how can we build new and life-affirming systems, while tearing down others that inflict harm. This panel brings together three technologists engaged in the exploration of generative, creative and justice-oriented interventions to improve the relationship between technology and society — specifically, developing alternatives to violent and discriminatory systems. We look forward to a lively discussion about each of their approaches to designing radical tech tools for social change, and expanding our own imaginations around the future of tech.

This event is the first in our Tech in Conversation series at the Center for Information Technology Policy. This series aims to spark conversations about tech and society across a wide range of disciplines; from cybersecurity to designing radical games to community technology initiatives. We'll host speakers with experiences outside of academia - those working in the field, in policy, on social media, at the grassroots, in art, in community - and engage them in conversations that are relevant and accessible to a wide community of people.
Moderator: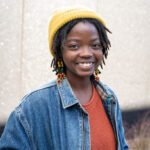 Kenia Hale (she/her) is an emerging scholar at the Princeton Center for Information Technology Policy (CITP) and the Ida B. Wells Data Justice Lab. She graduated from Yale University in 2021 with a B.A. in computing and the arts with an architecture concentration. There, she researched social justice urbanisms, and completed her senior thesis titled "Algorithms of Protest: How Protests Change Cities and Cities Change Protests." Kenia is interested in environmental justice, racial justice, and the implications of big tech and surveillance on communities of color, especially across the Midwest. At CITP and the Ida. B Wells Data Justice Lab, Kenia researches liberatory technologies, digital marronage, and Black Techno-Ecologies.
Speakers: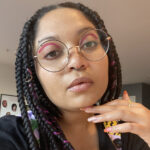 A.M. Darke (she/he/sir) is an artist and game maker designing radical tools for social intervention. Still in the class war. Now in the pandemic. He's in the combination class war and pandemic. Assistant Professor of Performance, Play & Design, Digital Arts and New Media, and Critical Race and Ethnic Studies, at UC Santa Cruz, Darke also directs The Other Lab, an interdisciplinary, intersectional feminist research space for experimental games and new media. Darke's recent work includes 'Ye or Nay?, a Kanye West-themed game about Black culture, and the Open Source Afro Hair Library, a 3D model database for Black hair styles and textures. Darke holds a B.A. in Design ('13) and an M.F.A. in Media Arts ('15), both from UCLA. He has completed residencies with Laboratory, NYU Game Center, the Open Data Institute, and the Frank-Ratchye STUDIO for Creative Inquiry at Carnegie Mellon. Additionally, his work has been shown internationally and featured in a variety of publications, including Essence, Vice, and The New York Times.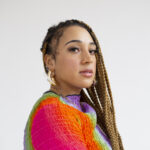 Annika Hansteen-Izora (they/she/he) is a designer, art director, and multimedia artist and writer based on unceded Munsee Lenape land, or Brooklyn, NY. They are currently Head of Design across product and brand at Somewhere Good, a social media startup designed around intimate conversations and reimagining digital spaces, beta releasing Spring 2022. They are the creator of Black Creative Ecosystems, a digital garden and directory of ecosystems dedicated to radical Black imaginative thought. Their work has been featured by It's Nice That, AIGA Eye on Design, ICON Magazine, and others.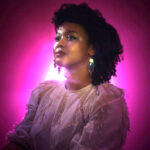 Ashley Jane Lewis (she/her) is a new media artist and creative technologist with a focus on interactive installations, bio art, social justice and speculative design. She holds a B.F.A in New Media Art from Ryerson University in Toronto as well as a master's degree from ITP at the Tisch School of the Arts at New York University. Her artistic practice explores black cultures of the past, present and future through computational and analog mediums including coding and machine learning, digital and physical fabrication, data weaving, microorganisms and live performance. Listed in the top 100 Black Women to Watch in Canada, her award winning work on empowered futures for marginalized groups has exhibited in both Canada and the US, most notably featured on the White House website during the Obama presidency. Her practice is tied to science and actively incorporates living organisms like slime mould, mycelium and food cultures to explore ways of decentralizing humans and imagine collective, multi-species survival.
Her advocacy work as an educator and activist has enabled her to push tech institutions to explore new equitable access points to technological skills and opportunities for marginalized folks. As an educator, Ashley has taught more than 3500 young people how to code, earning her press coverage as a tech activist from Reader's Digest, Huffington Post, Metro News and Washington Square News. Ashley has taught at CultureHub NYC, Genspace, InterAccess, Ryerson University, OCAD University, Parsons and the School for Poetic Computation, to name a few. Ashley was most recently featured by Google in the Black Women Techmakers campaign, aiming to show the diversity of creative practices in technology.
Tags